Through prayer and service, the St. Joseph family will strive to bring the community together to love, heal, and support one another as the people we are called to be in Christ.
In this week's Gospel we learn of the importance of faith as Jesus cured a blind man's vision.

The blind man kept calling out all the more… "Master, I want to see."
Jesus told him, "Go your way; your faith has saved you."
Immediately he received his sight and followed him on the way.
Please join us at Mass as we celebrate this holy season and find ways we can be inspired by Jesus's love.
Sunday Mass:
• 5:30PM Saturday Vigil Mass – Mission Church
• 8AM Mass – Mission Church
• 10AM Mass – Main Church
• 12PM Mass – Main Church (with Family of Faith)
• 3PM Mass in Vietnamese – Main Church
• 5PM Mass in Chinese – Main Church
• 7PM Youth Mass – Mission Church
Daily Mass (Mon – Sat):
• 8AM in the Mission 
• Thursday at 7PM in Vietnamese in the Mission
Feast days:
• Nov 1 – All Saints Day – 8AM (in Mission), 9AM (with school), 12Noon, 7PM
• Nov 2 – Feast of All Souls – 8AM (in Mission), 7PM (Main church)
Confessions 30 min before Mass or by appointment.
Adoration each Thursday in the Mission.
Monthly devotions to Jesus, Mary & Saint Joseph (see details)
Mission gift shop & museum: Wed-Fri 10am-3pm & Sat-Sun 10am-4pm 
Live-stream Mass is available each Sunday
10am (English), 3pm (Vietnamese), 5pm (Chinese)
All our Masses are also recorded so you can view them
at any time from our Youtube channel: Youtube.com/SaintJosephParish
These online worship aids are available: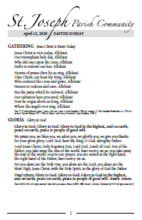 Mass in English  •
Mass in Vietnamese •
Thirty-first Sunday
in Ordinary Time
October 31st
@ 10:00 AM 
We are starting a new section of this website dedicated to Reflections from the Staff at Saint Joseph Church. This week, Father Anthony discusses the many forms of priesthood.
Christ as the High Priest
Dear all, I want to take this opportunity to reflect on the mystery of the Priesthood of Christ. Our faith informs us that Christ is the High Priest who offers himself as a spotless sacrifice for the salvation of all. For guidance we read the letter of St James…
From the desk of Sister Marcia Krause, OP
An "At-Home Retreat" Experience
The themed six-week series called " the Bags We Carry" features the addictions and compulsions that weigh us down, and how to lighten the load.  This special series is based on the Ignatian Exercises and is a gift from the Catholic Community of Stanford.
The readings for Week 2 of the Bags We Carry:  Do not be afraid, God is with you: moving from anxiety to trust in God's love and care. This reading may be found through the button below.  I hope that you can participate in this "At-Home Retreat Series."