Through prayer and service, the St. Joseph family will strive to bring the community together to love, heal, and support one another as the people we are called to be in Christ.
During this holy season of Advent we are all being called on to prepare ourselves to commemorate the first coming of Christ. If we do that each year; if we let the full meaning of Christmas enter into our innermost being, then each year of our lives will be sanctified and a big step will be taken towards our eternal goal. Christmas each year should be a milestone on the journey to heaven for every true Christian.
For more thoughts about our Advent journey, click here.
You are also invited to our parish Advent Retreat.
Please join us at Mass as we can be inspired by Jesus's love.
Sunday Mass:
• 5:30PM Saturday Vigil Mass – Mission Church
• 8AM Mass – Mission Church
• 10AM Mass – Main Church
• 12PM Mass – Main Church (with Family of Faith)
• 3PM Mass in Vietnamese – Main Church
• 5PM Mass in Chinese – Main Church
• 7PM Youth Mass – Mission Church
Daily Mass (Mon – Sat):
• 8AM in the Mission 
• Thursday at 7PM in Vietnamese in the Mission
Christmas Masses (see details)
Confessions 30 min before Mass or by appointment.
Daily Adoration in the Eucharistic Chapel ~ Main Church (signup)
Monthly devotions to Jesus, Mary & Saint Joseph (see details)
Mission gift shop & museum: Wed-Fri 10am-3pm & Sat-Sun 10am-4pm 
Live-stream Mass is available each Sunday
10am (English), 3pm (Vietnamese), 5pm (Chinese)
All our Masses are also recorded so you can view them
at any time from our Youtube channel: Youtube.com/SaintJosephParish
These online worship aids are available for this Sunday's Mass: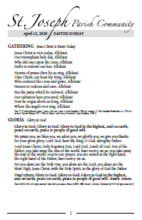 Mass in English  •
Mass in Vietnamese •
Third Sunday of Advent
December 12th
@ 10:00 AM 
We are starting a new section of this website dedicated to Reflections from the Staff at Saint Joseph Church. This week, Grace Lichauco reminds us of our Advent preparations.
The Second Sunday of Advent
"John the Baptist was chosen to speak for Jesus and spread the message to the people of Jordan.  The verses from the Gospel of St. Luke clearly indicate what is needed to be done to prepare for the coming of Jesus Christ… "
From the desk of Sister Marcia Krause, OP
St. Joseph has accompanied us during this past year and now reminds us that Advent is a time of preparation, to reassess our values and follow the leadership that Joseph lived so well!
You are invited to a morning reflection with Msgr. John McLaughlin, Jr., as he reflects on our Advent journey with Joseph.
Please join our Advent Retreat on Saturday, December 11, 9:30-12:30.
Mission 225th Anniversary Events
Welcome to our year-long commemoration of Mission San Jose's 225th Anniversary. In 2022 we will pay special tribute to the people whose lives have shaped our rich heritage starting with the Franciscan missionaries who sowed the seeds of Christian faith that has endured for nearly 225 years. Many special events are planned:  Pilgrimages * Speaker Series  * Walking Tours *  Concerts * Founder's Day Mass and Festival


We invite you to join us on January 1st at 10am to kick off the 225th Anniversary Year of the Mission. All are welcome.


January 1, 2022


Please join us at our first Speaker Series "Our Sacred Ground" The Ohlone Story, presented by Andy Galvan on January 8th. Registration details TBD.


January 8, 2022

100's of
Hours of community work